About Falna Golden Temple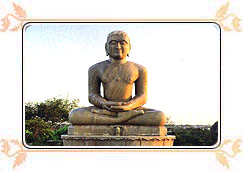 Ranakpur
Falna Ranakpur is famous for some marvelous carved Jain temples constructed during the regime of Rana Kumbha of Mewar in 1439 AD. Falna Jain Golden temple is ranked among the 5 holiest pilgrimage center of the Jain religion, remarkable in its architecture splendor and beauty. The temple shrines contain 24 halls with exquisite carved 1440 pillars. All the pillars are unique in themselves, with each one adorned with intricate and delicate work. The most famous central temple dedicated to the Jain Thirthankara Adinath ji, is also called Chaumukha- four-faced.
Falna Jain Golden Temple History
The Jain Golden Temple in Falna, a small town in Rajasthan has a unique attraction worldwide. It is the first temple that has been constructed by the people of the Jain community. The specialty of the temple is that, from the Falna town itself about 90 Kg. of gold was donated by the ladies of the Jain community for the idolization of temple dome and Lords idol. The Golden Jain Temple was inaugurated by Shri Bhairon Singh Shekhawat, Vice-President of India, the ceremony was also attended by other celebrities. All efforts are undertaken to develop proper facilities and infrastructure at Falna to facilitate more tourist, visitors and pilgrims to the temple. The complete Falna-Sirohi region has an affluent Jain heritage of art and culture and it is also developing as tremendous tourist attraction, apart from being a religious center.
Falna Travel Guide - Know About Falna Rajasthan
The nearest railhead to Ranakpur is Falna railway station, it is at a distance of 35 Kilometers. There are frequent trains to Falna from the major Indian cities.
Just as the railway station, Falna bus stand is also located in the close proximity to the temple. You can catch bus from almost all major cities. In Rajasthan itself their are daily bus service from Falna to Nathdwara, Falna to Kumbhalgarh and other cities of the state.
Good transport facilities are available to this place. The town also has boarding facilities available in the Dharmashala near the temple and in the guesthouses or other hotel in falna.