Altitude :
3165 mts
Yamunotri Weather :
Summer-Cool during the dayy and cold at night.
Winter - Snow bound. Touching sub-zero.
Clothing :
April to July - Light woollens
Language :
Hindi, Garhwali & English
Yamunotri Glacier - The Sacred Origin of the Yamuna
The Garhwal Himalayas have been blessed with some of the holiest Hindu pilgrimage sites and Yamunotri temple is one such. One of the Char Dhams according to Hindu mythology, Yamunotri is the origin of the sacred river Yamuna. Famous for its thermal springs and glaciers, it is one of the most important stopovers on the itinerary of the Hindu pilgrim. According to an old legend, Asit Muni, the revered sage, used to reside here.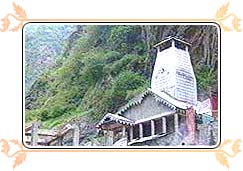 Yamunotri Travel - Location
Perched at an altitude of 3293 meters above sea level, Yamunotri is located in the Uttarkashi district of the northern state of Uttaranchal. It is very close to the Indo-Chinese border and is surrounded by the Himalayan offshoots on all sides. Yamunotri, lies near the Bandarpunch Mountain, which is 6315 m high and lies to the north. The glacial lake of Saptarishi Kund trek, on the Kalind Parbat, at an altitude of 4421 m, is the real source of the Yamuna River. Yamunotri trek is at a distance of 278 km from Dehradun, 236 km from Rishikesh, 176 km from Chamba, and 21 km from Sanya Chatti. It remains cool even during summers. The winters are snow-bound and temperatures fall below 0°C. One is advised to carry light or heavy woolens depending on the time of visit.
Booking Information/Reservation
Yamunotri - Mythological Myth
The first stopover for the
Char Dham Yatra
is the westernmost shrine of Yamunotri in the Garhwal Himalayas. Dedicated to Goddess Yamuna, it is perched atop a flank of the Bandar Poonchh peak (3165 mts. above sea level) and is situated opposite to Gangotri. The shrine attracts devotees in large numbers from May to October who worship at first Yamunotri and Gangotri is the next stop.
Yamunotri is the source of the revered river Yamuna which originates from the Champassar Glacier lying 1 km ahead of the shrine, at an altitude of 4421 mts. Pilgrims do not frequently visit the source of the river as it is not easily accessible.
Yamunotri finds a special mention in the Hindu mythology. According to a legend, this secluded hilly spot was the home of an ancient sage, Asit Muni.
Among the major attractions of Yamunotri are hot water springs nearby. Devotees prepare rice and potatoes to offer at the shrine, by dipping them in these hot water springs, tied in muslin cloth.
Booking Information/Reservation
The trek to Yamunotri to Gangotri is spectacular, dominated by a panorama of rugged peaks and dense forests.
From Rishikesh, a 213 kms. journey by road takes one to Hanumanchatti. From here, the remaining 13 kms. trek is covered on foot or on ponies. Palanquins and Porters are also available on hire.