Location :
Nagar Panchayat town in Uttarkashi, Uttaranchal
Altitude :
3042 mts.
Gangotri Weather :
Summer - Cool during the day and cold at night.
Winter - Snow-bound. Touching sub-zero
Best Season :
April to November
Gangotri Temple - The Holy Pilgrimage
Be it man's urge to placate the Gods above or to quench his desire for adventure, Gangotri river is an ideal location. Gangotri, the origin of the sacred river
Ganges
, attracts tourists in large numbers every year. The confrontation with the daunting rivers and attempts to unravel the mysteries of the supernatural world are ubiquitous sights here. Along with the thrill of conquering nature, what one experiences here is the mystical aura that India is so famous for.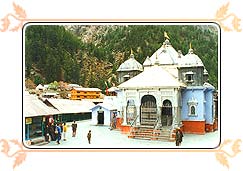 Gangotri Glacier - Location
Couched in the magnificent Garhwal hills, Gangotri (or dakshin Gangotri as it is called sometimes) is at an altitude of 3048 meters above sea level. It is on the northernmost part of the state of Uttaranchal and is very near to the Indo-Tibetan border. It is approximately 300 km from Dehradun, 250 km from
Rishikesh
and 105 km from Uttarkashi. The summers are relatively cool and winters are freezing cold, with rains in the months of May and June. For the devotees and tourists, the gates of the Gangotri dham are open only in the months of May to November.
Booking Information/Reservation
Gangotri Gaumukh - Mythological Legend
According to an old legend, Lord Shiva rewarded King Bhagirath after his penance and Ganga came down to earth. However, due to her pride, and the fact that the earth would be devastated if Ganga came down in her full force, Lord Shiva caught her in his locks. It was then proclaimed that Goddess Uma or Parvati, Shiva's consort, would bathe in the Ganges daily and only then would she descend on the earth. The sacred stone near the temple denotes the place where Ganga first came down to earth. This is why Ganga is also called by the name of Bhagirathi and the place where it first came down is called Ganga Goumukh. Today a temple has been built there where one can attend Ganga aarti enchanted with sacred Ganga songs.