| | |
| --- | --- |
| Location: | Uttarakhand Region (Uttar Pradesh) |
| Main Attractions: | Har Ki Pauri, Chandi Devi Temple |
| Best Season: | September to June |
| Nearby Attractions: | Rishikesh, Deoprayag |
| Related Links | Rishikesh, River Ganga, Kumbh Mela |
Haridwar Travel Guide
The Gateway of Four Pilgrimages
Haridwar travel is considered as the gateway to the four pilgrimages in the Uttrakhand region, The Ganga Haridwar leaves the mountains and enters the plains with Hardwar being the first major town on the plains. Though the Ganges Haridwar does not lose its rapids completely nevertheless it becomes very quite and calm here. The water is clean and people prefer taking bath on the numerous ghats built on the river shores. It is said that taking bath here purifies the soul and opens the way for the ultimate freedom, Nirvana.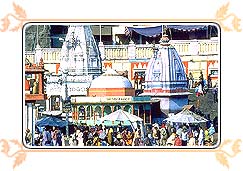 Haridwar Tourism
Haridwar has earned fame as being the place which has been blessed by the trinity of Lord Shiva, Vishnu and Brahma. It is also one of the major Shaktipeeths. Down the ages Hardwar has purified the mind, the body and the soul. Not only in spiritual or religious terms Hardwar has come up as a major learning center for arts, science and culture. This place has maintained the Gurukul tradition of teaching. This ancient tradition of teaching has maintained its fervor in Hardwar.
Haridwar has since ages been a source of Ayurvedic medicines and has been providing herbal remedies. Hardwar one of the first towns to be developed on Ganges is still lush and green with forest and trees. With Rajaji Park in the vicinity Hardwar has also been the destination for the wildlife and nature lovers. The city acquires a unique charm in the evening when the ghats become breath taking beautiful with thousands of Diyas and Marigold floating in the waters of Ganges. About three and half lakh People reside in this city. Hindi, Punjabi, Garhwali and English are the main Languages of Communication. Tracek other important destination from the Haridwar map provided on our website.
Location
It is located on the foot hills of Shivaliks and on the banks of River Ganga. This major pilgrimage center is well connected by trains to all the major towns of India. In fact trains bring the major load of pilgrims and tourist inflow to Haridwar. Haridwar is located at a height of almost 300 meters . One Should never expect any sort of pleasant high altitude climate here. During the summers the temperature usually hangs around 40 degrees but winters sees the mercury dipping as low as six degrees. So neither of the seasons are suitable or ideal for tourists for visiting Haridwar. The monsoons further add to the miseries of the visitors.