Altitude
356 meters.
Rishikesh Weather (deg C)
Summer - Max.44.4, Min.29
Winter - Heavy woollen.
Best Season
Throughout the Year.
Related Links
Haridwar, River Ganga
Where is Rishikesh
: Uttaranchal
Rishikesh Tourism :
Rishikesh Uttaranchal is located in the northern part of Uttar Pradesh. It is 238 km northeast of Delhi and 24 km north of
Haridwar
and spreads on the right banks of the Ganges, at its confluence with the Chandrabhaga stream. It is surrounded by hills on three sides and is perched at an altitude of 356 meters above sea level. The name Rishikesh is loosely applied to an association of five distinct sections encompassing not only the town but also hamlets and settlements on both sides of the river.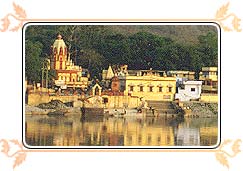 These include Rishikesh itself, the commercial and communication hub; the sprawling suburban Muni-ki-Reti or the "sands of the sages"; Shivananda Nagar, north of Rishikesh; the temple section of Lakshmanjhula, a little further north; and the assorted ashrams around Swarg Ashram on the east bank. In Rishikesh, the winters last from November to March, when temperatures fall below 0°C. The monsoons are generally experienced in the months of July and August.
Rishikesh Himalayas
43-kms from Dehradun & 24-kms from Haridwar, the celebrated
spiritual centre of rishikesh
is situated amidst a calm environment, impressive water front, dense forest and hills. Virtually a town of saints, sages and scholars. Rishikesh is a lare religious centre located on the right bank of river Ganga. There are a number of Ashrams (hermitages) where religious discourses are held. The place is also a renowned centre for yoga teachins. You can go for adventurous sports such as Rishikesh trekking.
Rishikesh Rafting
Rishikesh has earned the label of the white water rafting Rishikesh capital of India. It's one of the desired destinations of every adventure fanatic and rafting along the mighty Ganges is every adventure seekers dream come true.You don't have to know swimming and rafting skills.
The Past
Legend has it that the sage Raibhya Rishi did severe penance and, as a reward, God appeared to him in the form of Hrishikesh. Rishikesh also represents the site where Lord Vishnu vanquished the demon Madhu. The place is known as the Tapo Bhumi or the place for meditation of the Gods. Tapovan, on the other bank of the Rishikesh
Ganges
, houses a temple to Lakshmana. It is believed that Lakshmana, the younger brother of Lord Rama, carried out penance here. The Neelkanth Mahadev temple is believed to be the site where Lord Shiva had drunk the venom that came out during the churning of the ocean. In the 1960s, the place came into limelight as the place where the pop group Beatles met their guru, Maharishi Mahesh Yogi.